Twin Falls, Idaho, holds a variety of surprises. Most famous for its towering bridge over the Snake River, a hotspot for bungee jumping and base jumping, and the thundering Shoshone Falls, the largest cascades west of the Mississippi. Nestled in the midst of farmland in the enchanting 'Magic Valley,' skiing is the last thing that comes to mind. With only an average of 18 inches of snow annually and a landscape as flat as Nebraska, it's unexpected. However, there's a hidden gem for skiers and snowboarders – Magic Mountain Ski Area and the backcountry skiing around it.
Here's Our Personal Experience Of Backcountry Skiing Around Magic Mountain
Our Trip Lured Us Back To Explore The Backcountry
On our trip to Sun Valley a few years ago we found that southern Idaho had some Mom & Pops that provide Twin Falls skiing. One of those is Magic Mountain Ski Area. Though not vast, this ski area was a delightful surprise and provided our powder fix for the trip even though it hadn't snowed in over a month. You can read about our experience in our article – Abracadabra Powder Skiing At Magic Mountain Idaho. What it also did was open our eyes to the backcountry skiing opportunities surrounding it. The decision was made to come back with our backcountry gear and see what the mountains had in store for us.
No Info But A Local With The 4-1-1
As we returned home, I dedicated the summer to uncovering information about backcountry skiing in the area, but the southern Idaho mountains seemed shrouded in mystery. Oddly enough, this only fueled our determination to explore them further. During our last trip, we connected with Terry, a passionate local ski patroller and a backcountry ski junkie. Terry generously offered to join us and provide local knowledge on the area. Drawing on the trip-planning expertise passed down by our mentor, Avalanche Educator Richard Bothwell, we etched out a plan.
A Bonanza Of Powder
On our first day, we set out to explore and dip our toes in the backcountry that could be accessed from the ski area. Calling it 'low hanging fruit' barely captures how easy it is to access for those willing to put in a tiny bit of effort. Thanks to the lift, which conveniently places you along the ridgeline, our route was straightforward – tracing the resort's Spell trail until it gradually descended. At that point, we threw on our skins and began a brief ascent towards a prominent spot marked by an abandoned poma tower.
Adapt To Your Mountains
From the open knoll, we gained a bird's-eye view of our goal for tomorrow – Pike Mountain. As we soaked in the sun and scenery, we met a couple of locals sporting an intriguing pair of skis I hadn't seen before. On the bottom of the skis, they were equipped with scales akin to cross-country skis which allowed them to ascend gentle slopes. However, they were as wide as downhill models. This unique setup allowed them to bypass transitions and access the same terrain we were skiing at a fraction of the time.
Hippy Pow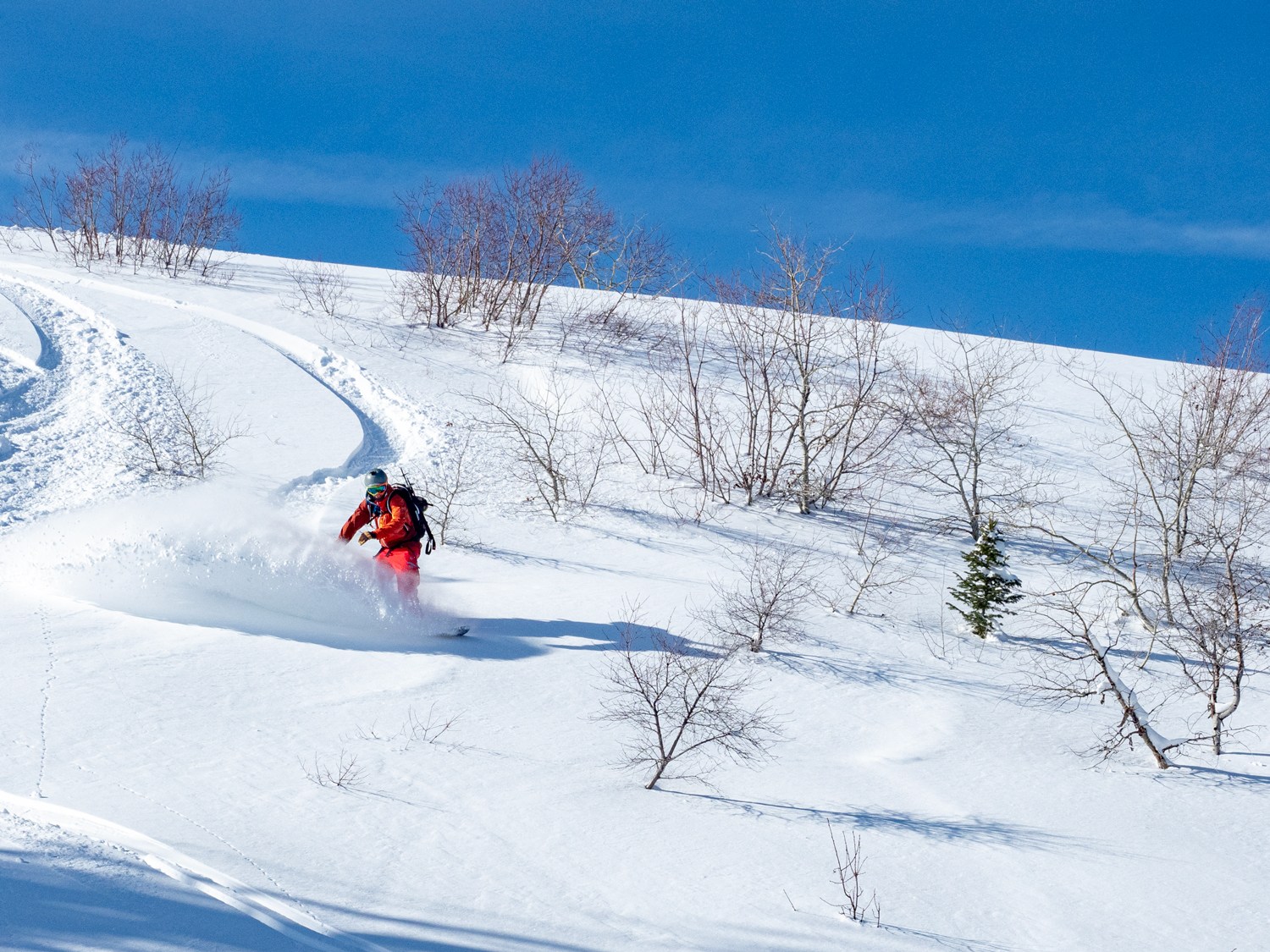 After bidding adieu, we ventured a bit further to choose our own path. Swiftly transitioning, we descended. The open slope gradually increased in pitch allowing us to make a few bouncy turns. Reaching the base, we delved into a dense cluster of pine trees. Maneuvering through them, our crew shot out of them and onto a gentle slope dotted with Aspen trees. The route continued to present occasional tight spots interspersed with more open areas. We finally exit onto a snow-covered road. And even with a splitboard, the road has enough pitch to allow us to effortlessly glide back to the ski area.
Using the lift, it's possible to rack up half a dozen or more laps without breaking a sweat, especially with quick transitions. After a few more runs of gobbling up some powder, we exchanged farewells, planning to meet up the next morning.
A Legit Ski Tour – Pike Mountain
The following day, we crossed the road and made our way to Pike Mountain. While most first-timers hit up the western aspects of Pike Mountain, the snow can be iffy. Instead, our local expert arranged to meet at the Wahlstorm trailhead. Our objective? Ski the north-facing slopes on the opposite side of the mountain. Despite it being a Saturday around ten in the morning, we found ourselves alone. After a brief beacon check, we smoothly set off into uncharted terrain.
Where Do Those Skis Go? They Go Up Ray!
At the outset of our tour, we traced a creek bed and followed a XC trail that gradually ascended. The only sound is the crunching of snow, while towering pines surrounded us in serene silence. As our climb picked up pace, we maneuvered through a series of switchbacks on a slope filled with Aspen trees. Breaking free from the gully, we're greeted by a breathtaking view of the distant valley and prominent mountains in between the cluster of white-barked trees.
Ahoy! Thar Be Wind!
Our group ascends towards the saddle nestled between Pike Mountain and a smaller northern hill. The wind gradually gains intensity with each step upwards. Nearing the north face of Pike Mountain, the gusts intensify, hitting us head-on. Instead of pushing for the summit, collectively we opt to climb only until we reach the point where the trees thin out.
Just Us In This Untouched Paradise
Battered by the fierce wind, we seek refuge behind a towering spruce. From here we swiftly transitioning to our next objective. Gliding over to our destination, I'm awestruck. This side of Pike Mountain unfolds into a vast playground. There are chutes, perfectly spaced glades, and a diverse range of slopes to ski all day long. And remarkably? There isn't a trace of any prior tracks – just us in this untouched paradise.
Despite today's windy weather, I glance up at the peak. On a calmer day, we could effortlessly enjoy over 1,000 vertical feet of incredible skiing. However, today, we had to settle for a quick 600-foot descent. As we drop in, the snow is a mix of chalky goodness feel that improves with every turn. Gradually, it transforms into knee-deep powder, swirling around us like a wintry blanket.
Reaching Terry I can't help but grin widely and exclaim, "Now THAT was awesome!"
If you're keen on exploring this tour and other adventures in the southern Idaho mountains, we've compiled a comprehensive guide available on Visit Southern Idaho's website: You can find it here.
It's Not Over Yet!
This is but the first leg of our backcountry ski tour. Stay tuned as we explore the backcountry options surrounding both Pomerelle Mountain and Soldier Mountain.
The post There Is Backcountry Skiing In Twin Falls Idaho?!? (VIDEO) appeared first on Local Freshies.